When I checked into the ole' blog this afternoon, I was more than a little surprised to see that 57 visitors were here - at one time. That may not seem like much to some of you, but to this little-known piece of the blogosphere - that was HUGE. I couldn't help but wonder where all of these people were coming from.

I hit "refresh" and we were up to 61. What on earth? And then I looked over at my righthand sidebar.
Layla
had posted the winner of her giveaway. My heart skipped a beat. "No way".
But, it's true! We won!!! :)
Click here to read all about it.
Can you believe it? Sam is going to be sooo excited.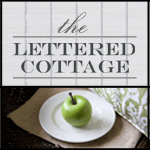 Just for kicks, here's what I wrote to enter the giveaway. Layla had asked us to tell why we needed their free leafblower:


"I would like the leaf blower, please :)This is our first fall in our "new" house and we are one of the only young families on the entire street. Most of the homes still boast their original owners, now retired and manicuring their lawns with some fierce dedication. With four children ages 8 and under, we pale sadly in comparison. It's a good week if the grass gets mowed, let alone edged and aerated. Our house needs some love, but it has an amazing wooded acre lot. We have a huge black locust right beside our driveway that's dropping its teeny weeny leaves all over the place. Those things are tricky to rake! A leaf blower would be just the thing to take care of the locust leaves *and* get us up to speed with our meticulous neighbors :)

Thanks, Kevin & Layla!!! This is really generous of you!

XO,
Jacci"
Thanks, indeed! This is so incredibly generous of Layla and Kevin. Guys, no kidding, this is so great :)